CORPORATE CULTURE & EMPLOYER OF CHOICE RECOGNITION
Contact Center Best Practices Report
The economy may be down, but employee morale doesn't have to be. Take your contact center to the next level with the CCEOC Best Practices Report!
Learn how leading contact centers develop superior work environments, sustain high employee engagement and outperform the competition. Topics covered include: rewards & recognition, work/life balance, health & wellness, community support, ergonomics, technology and culture to name a few.
This edition has lots of new data to help you benchmark your center against some of the best in the business.
The Report contains profiles of contact centers that have achieved CCEOC certification and includes:
Company & Contact Center Descriptions
Key Performance Indicators
Technology & Ergonomics
Growth Prospects
CCEOC Attributes
Rewards & Recognition
Culture & Social Environment
Community Support
Above and Beyond Factors
We also compile the most meaningful data to show:
Overall average certification score
Average survey certification scores
Top 10 and Bottom 10 scoring survey items
Demographic bar chart summaries
Comparative analysis of the Top 10 and Bottom 10 survey items in relation to Age, Gender and Years Employed at Company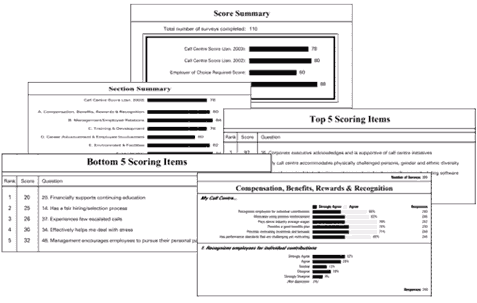 If your center is already CCEOC certified, this report shows how you measure up to the benchmarks. If you're considering certification or just want to develop a more people focused culture, it will help guide you in your journey to become a world class, people focused contact center.
The price is just $995. Taxes, shipping and handling are extra.
Order 3 or more copies, and receive a 10% discount.