CORPORATE CULTURE & EMPLOYER OF CHOICE RECOGNITION
IDEA Central™
Employee Engagement System (powered by Kindling) Connect, Collaborate, Innovate, Engage
Get more connected to your employees and uncover the brilliant ideas that will drive your business forward. IDEA CENTRAL™, CCEOC's employee engagement and idea management software, helps you tap into your company's collective intelligence for better, more creative decision making. It provides a user-friendly, mobile ready platform that allows your employees to submit ideas faster, easier and more effectively than ever before!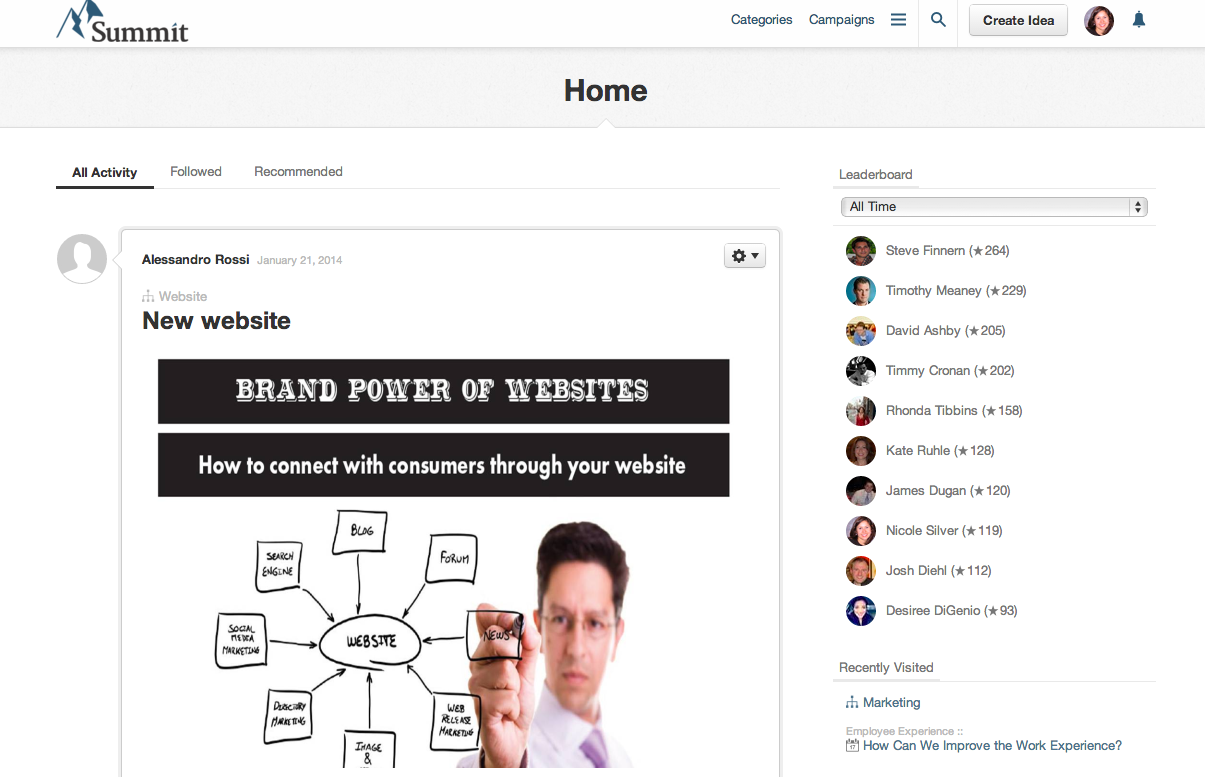 The features will blow you away!
Duplicate Detection

Automatic Duplicate Detection makes sure that ideation is concentrated for maximum creativity and efficiency.

Configurable Workflow

Tailor your innovation program with Custom Evaluation Workflows to fit your organization's needs.

Multilingual Support

Allow participants to innovate in their own language, including both user interface and notifications.

Custom Styling

Drive engagement and encourage participants to take ownership of ideas, with a custom UI that includes logos and brand coloration.

Mobile/3-Screen

Enjoy a richly tailored experience for tablet and mobile—no app download required.

Reporting

Data transparency, a powerful set of out-of-the-box reports, and flexible reporting architecture meet your innovation program's needs.

Recommendation Engine

Get your custom curated content, based on in-app behaviors, searches, interests and favorite keywords.

Dedicated Customer Support

Free, in-house expert support is always just an email or phone call away.

Challenges/Campaigns

Inspire your organization with Challenges and Campaigns to answer specific innovation needs, even when time is short. Incentive options motivate your team with rewards and recognition.

Idea Central Open

Open plugs you into the power of your community, from customers to vendors to suppliers to retirees.

Integrations (Yammer, Sharepoint, Salesforce)

Your internal teams will have no trouble integrating with Yammer, Sharepoint, Salesforce or your unique innovation content with our standard and well-documented API.

Open API

Our system weaves external, SaaS-powered data into the enterprise web. Our API is RESTful, so web developers can pick it up easily.
Management finally has a systematic way to collect, prioritize and implement the best ideas flowing through the organization. A built in, real-time measurement tool and "anywhere access" allows you to determine where the best ideas are coming from and how to generate more.
No good idea gets left behind!
Schedule your free demo today! Go to the Contact Us page and select "Free Demo".