CORPORATE CULTURE & EMPLOYER OF CHOICE RECOGNITION
CCEOC Employee Surveys
To be a leading "employer of choice", you need to know what's on your employee's minds – all the time!
Employees always want more opportunities to provide feedback. Our survey tools make it easy for you to collect their opinions, analyze the data and act on the results.
Focal Point Pulse Survey
Focal-Point™ is an efficient, affordable, pulse survey system. It provides the ongoing insight you need to understand your employees better and start building a more committed employer of choice culture.
How it Works
Choose initial statements from the EOC Standard survey
Add an open ended question for employee comments
Determine the survey interval – monthly, quarterly, semi-annually
Customize survey with your logo.
Invite a random sample of employees to complete the survey
Adjust survey start/stop times according to your schedule
View real-time tracking to monitor completion rates
Reporting is automatically generated and available on-line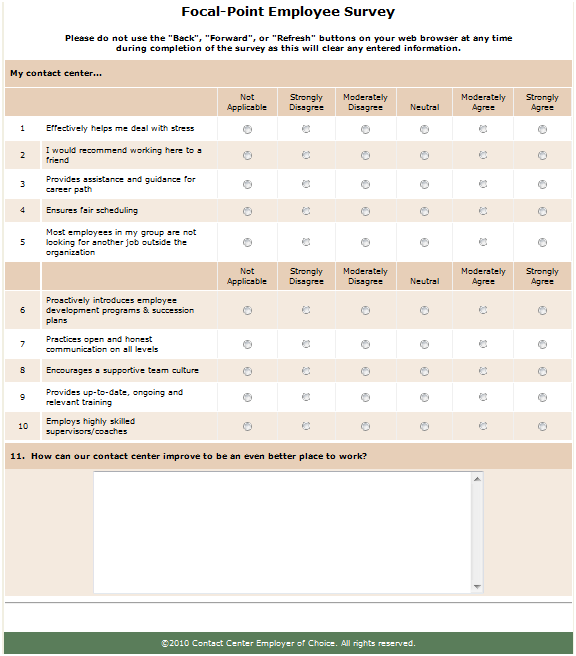 Leadership Quotient
Inspired, visionary leadership is critical to building and sustaining an Employer of Choice culture. The Leadership Quotient survey provides the "smart data" you need to develop the kind of leaders your employees will want to follow.
10 leadership dimensions
Open ended questions
Customizable
Easy to read data reports
Executive summary with recommendations
Can be used for all levels of leadership
Based on 10 years of developing employer of choice cultures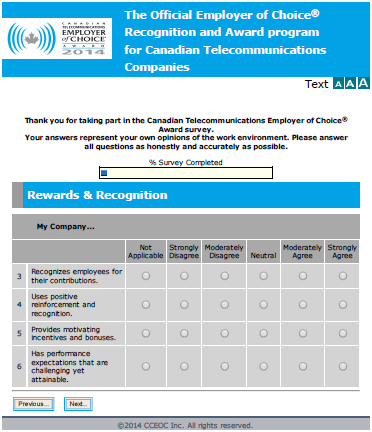 Reporting & Analysis
Detailed reporting that you don't need a PhD to read. We provide excellent, insightful summaries as well as all the graphical data you need to start making decisions and developing action plans. Our deep analytical capabilities allow us to move beyond standard numerical and graphical reports and perform advanced analysis using accepted tests to help better understand the significance of survey results.
This includes:
Analysis of single variables
Co-relative analysis of multiple variables
Regression analysis
Significance testing (chi-square, Pearsons R, and Fisher's Exact) to determine if cross-tabulations indicate a significant relationship between two factors
Hypothesis testing
Start working with "smart data" and get your employees more engaged with CCEOC employee surveys.